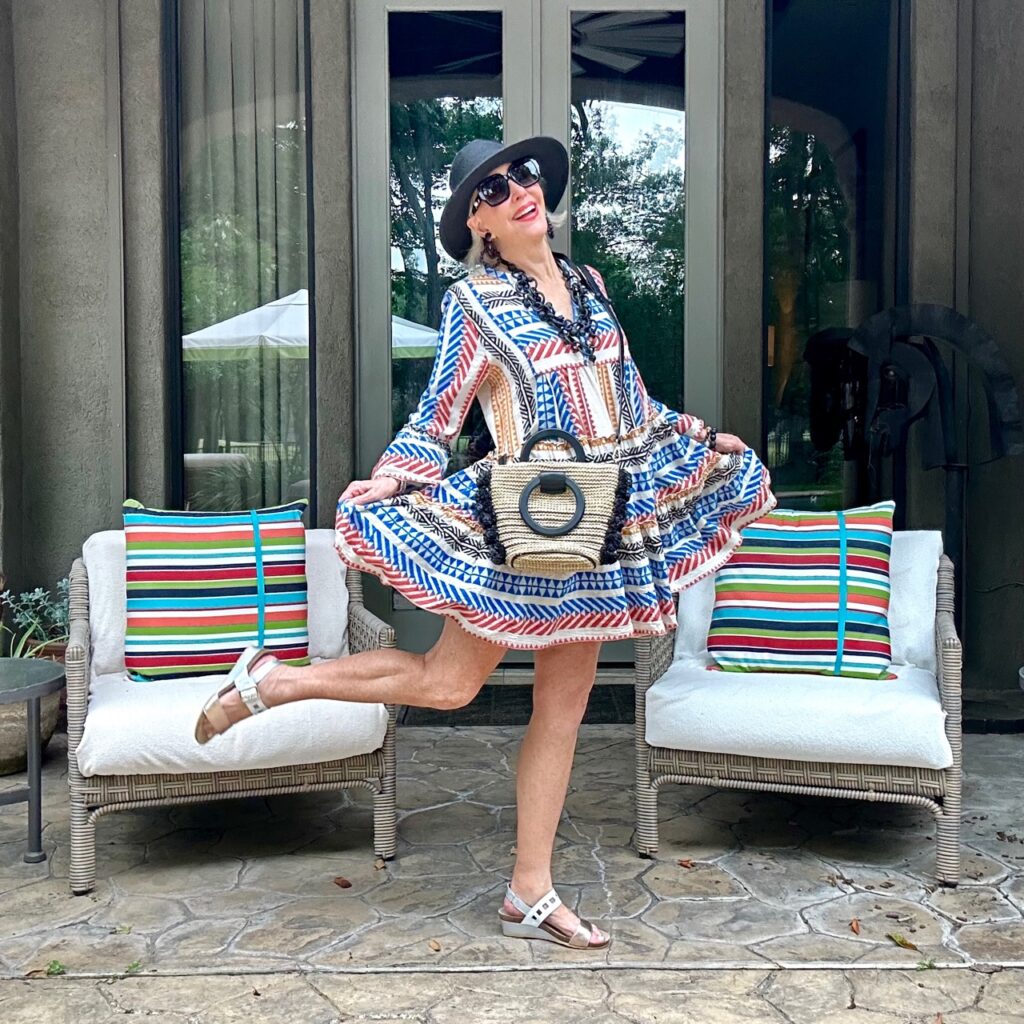 Happy Tuesday, everyone! In exactly one week we will be celebrating the 4th of July! This is one of my favorite holidays, as it never fails to bring family, food, and fun together right in the middle of my favorite season. To help you celebrate this year, we're doing a full run-down on Independence Day style! When it comes to 4th of July fashion – we've got you covered.
Shop the Photo
*Exact items are no longer available, but equally adorable similar ones are linked below*

Table of Contents
HISTORY
It's very important we remember why we celebrate the 4th of July…
According to the History Channel, "the 4th of July – also known as Independence Day – has been a federal holiday in the United States since 1941, but the tradition of Independence Day celebrations goes back to the 18th century and the American Revolution." On July 2nd, 1776, the Continental Congress voted in favor of independence. Just two days later the delegates from the 13 colonies came together to adopt the Declaration of Independence, which is why we celebrate on July 4th. Happy birthday, America!
4th of July Fashion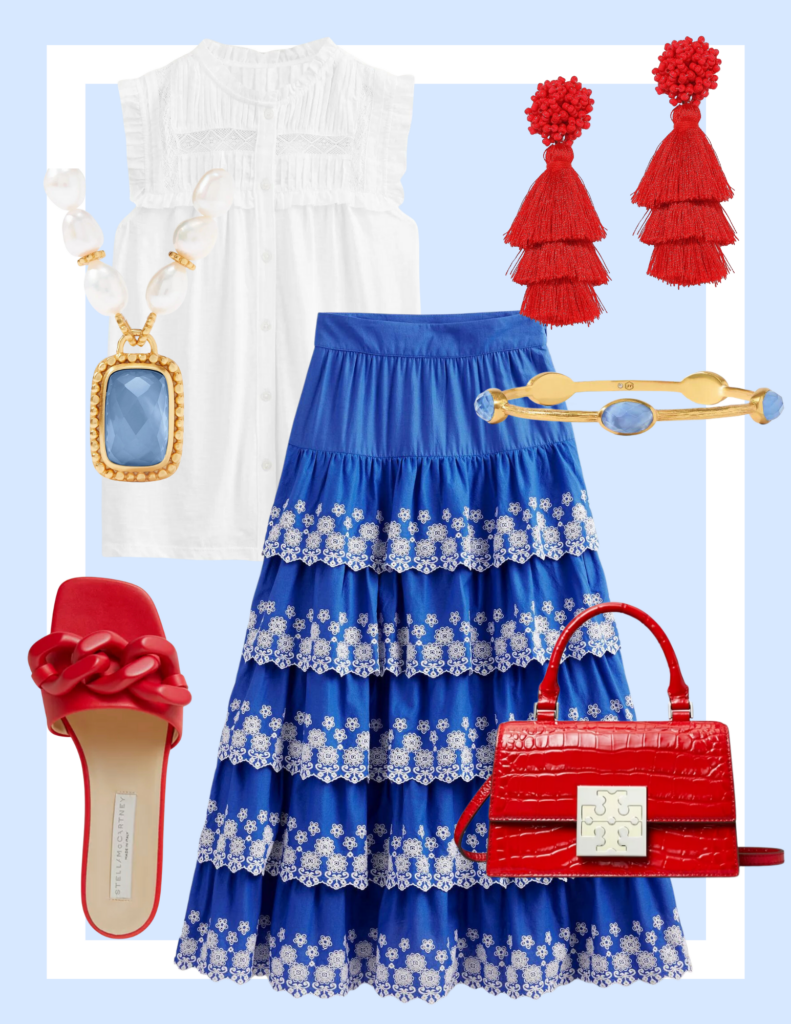 SHOP THE PHOTO

TOPS
There are SO MANY cute tops out this season that work for patriotic holidays! I love this flared red white and blue floral printed blouse, this USA tee for a casual laid-back look, and this navy and white striped button down shirt is a wardrobe staple that can be worn season over season! If you are wanting something to cover your arms more or are traveling where temperatures may be cooler, then I HIGHLY recommend this classic white denim jacket or my favorite festive knit sweater that comes in red, navy, and blue with white stars or the American Flag!
SHOP TOPS

BOTTOMS
July is a very hot month, at least it is here in Texas! With that being said, I love cute shorts that are either red, white or blue (navy) for this patriotic holiday. My personal favorites that I own are these Talbot's red Chino shorts – I just love the cute red and white striped cuff detailing!
If you are not a shorts girl then these J. Crew cropped white jeans, a flowy skirt like this fun blue multi tiered broderie skirt, or these Chico's red cropped linen pants are perfect for a hot day!
SHOP SHORTS

SHOP SKIRTS + PANTS

For more shorts for the mid-life woman, be sure to read our recent blog on How to Fabulously Wear Shorts Over 40.
DRESSES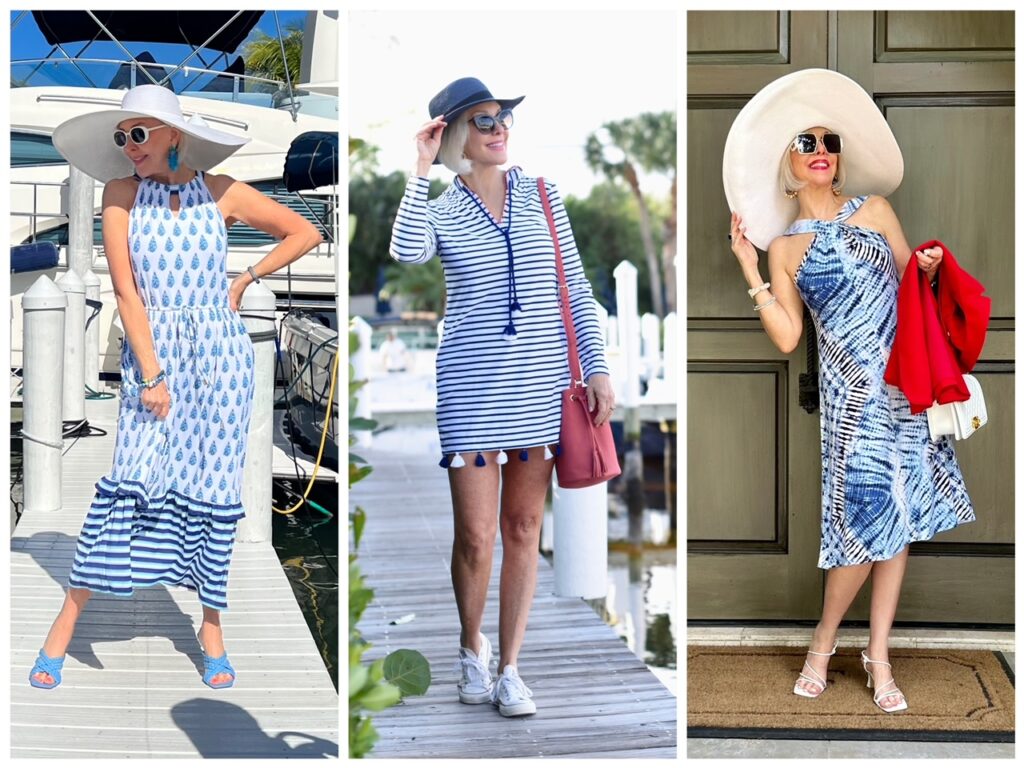 This little blue and white sundress in the video and far right photo is by Clara Sun Woo. I love creating patriotic holiday looks with items that can be restyled over and over again! You can find the sundress HERE and use CODE: SHESHE10 for your discount at checkout!
SHOP THE PHOTO + VIDEO

Dresses are a great way to stay casual, yet chic during the hotter months. Lots of 4th of July celebrations and activities are spent outdoors, from BBQing, boat rides, poolside, with lots of sun is involved! One of my favorite brands has the CUTEST dresses that can work for patriotic outfits when paired with coordinating red, white and blue accessories and also be used as a cover-up! Plus the dresses will protect your skin from harmful UV rays as Cabana Life is a UPF clothing brand!
SHOP DRESSES

For more patriotic dress inspiration, check out our recent blog on Versatile Memorial Day Sundresses You Can Strut All Summer Long.
SHOES + JEWELRY + ACCESSORIES
Shoes, jewelry, and accessories are a great way to get in your pops of American color! For a casual look, you can sport the ever iconic Chuck Taylor Converse sneakers with red and blue stripe detailing or for a more dressy vibe, these stunning electric blue espadrille wedges to dial up your 4th of July fashion!
For more 4th of July fashion and style inspiration, check out our recent related blog, Bold & Patriotic Outfits to Honor the Brave.
SHOP SHOES

SHOP JEWELRY

SHOP ACCESSORIES

SWIMWEAR
Last but certainly not least, when it comes to 4th of July fashion, patriotic swimwear is a great way to show your American pride! Use your one-piece like a pseudo "bodysuit" and throw on some shorts or a blue midi-skirt and you've got a complete outfit that is pool ready!
For more ways to style you one-piece swimsuit as a bodysuit, be sure to read our latest post on 5 Ways to Style Your One-Piece Swimsuit As A Bodysuit.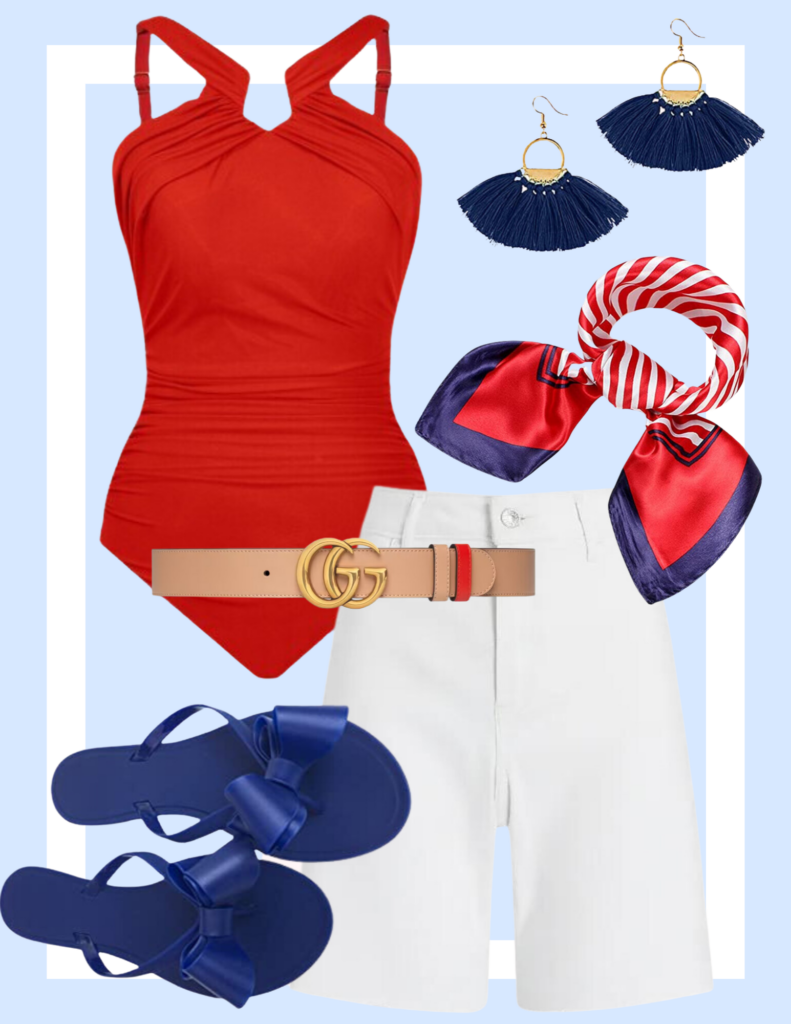 SHOP THE PHOTO

SHOP SWIMWEAR

I still can't believe that the 4th of July is right around the corner! 2023 is definitely flying by and celebrating Independence Day is always one of the greatest enjoyments of summer. We hope you have a safe and fun holiday and have fun shopping our favorite 4th of July fashion.
Happy Independence Day to you and yours!
4TH OF JULY FASHION BOUTIQUE

SHESHE'S TIDBITS:
Hi Dolls!!! I had a fantastic time in Charleston and I can't wait to share allllll about it with y'all in an upcoming blog I am currently working on!! Stay tuned on my Instagram (@SheSheShow) and here on the blog for ALL the BEST upcoming sales as we approach the 4th of July holiday!! This is the time of year that retailers start dumping their stock which means MAJOR savings for you and me! What are your plans for the up coming holiday weekend and what 4th of July fashion will you be rockin'?! Let me know in the comments or on Instagram!! XO – SheShe
Be sure to check out our most recent blog posts on 4 Ways to Dial Up Denim, Luxury Luggage for Every Budget, Must-Have Summer Handbags, 5 Ways to Style Your One-Piece Swimsuit As A Bodysuit, What is in My Beach Bag | Beach Necessities 2023, Trendy Shoe Must Haves – Summer Sandals + Flats + Sneakers, Versatile Memorial Day Sundresses You Can Strut All Summer Long, Bold & Patriotic Outfits to Honor the Brave, The Ultimate Over 40 Swimwear Guide, and How to Fabulously Wear Shorts Over 40.
*CHECK OUT MY LTK INSTAGRAM SHOP TO SHOP ALL OF MY INSTAGRAM LOOKS
*YOU CAN ALSO DOWNLOAD THE LIKETOKNOW.IT APP AND FOLLOW ME ON IT BY CLICKING HERE. Go here for our LiketoKnow.It tutorial.
* STAY IN THE KNOW: SUBSCRIBE HERE to receive exclusive sale alerts, helpful style tips, and fabulous giveaways, AND GET ACCESS TO MY VIP ONLY FOR SUBSCRIBERS!
* Follow us on PINTEREST BY CLICKING HERE.