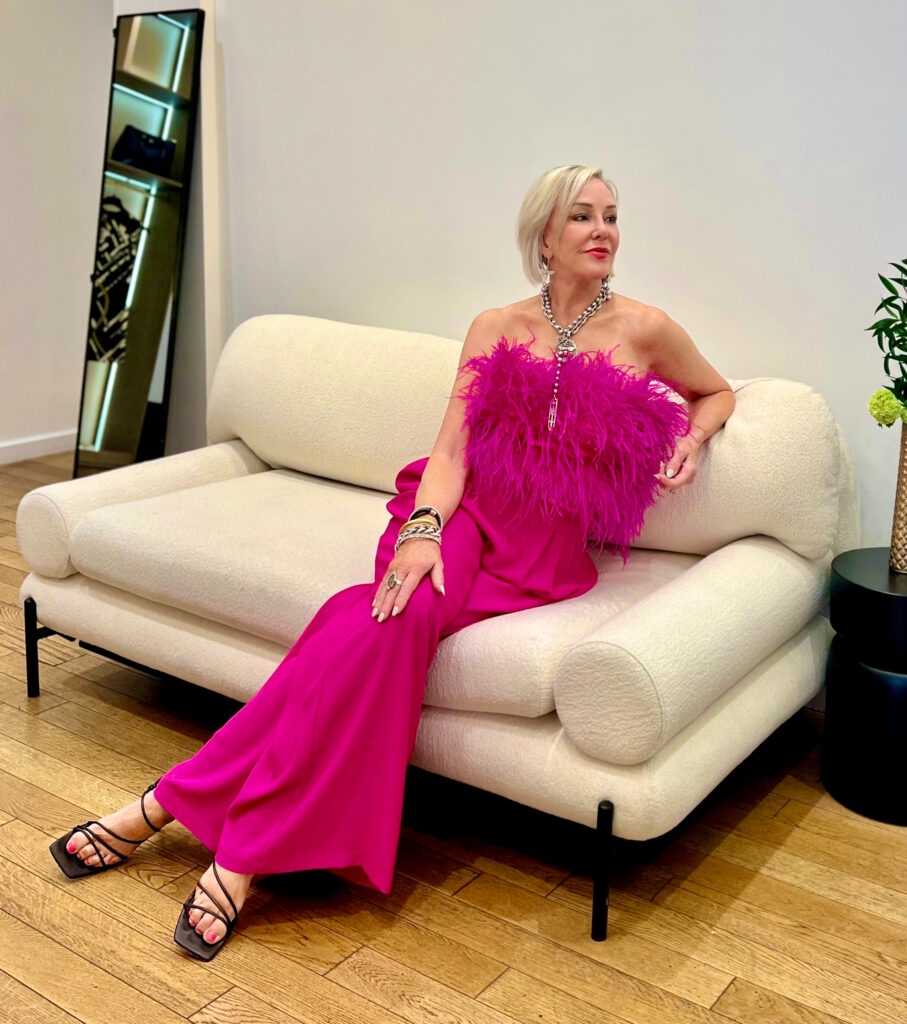 With the new Barbie movie released on Friday, July 21st, Barbiecore fashion has become all the latest RAGE! From publications in Vogue, Harper's BAZAAR and even TIME magazine to luxe designers like Valentino, Chanel, and Versace releasing hot pink Barbie-inspired collections, EVERYONE is on board with the hottest new Barbie fashion trend!! Today we are sharing our Barbiecore favorite looks and 4 ways to style them!
Shop the Photo

BARBIECORE FASHION FAVORITES
1. Signature Barbie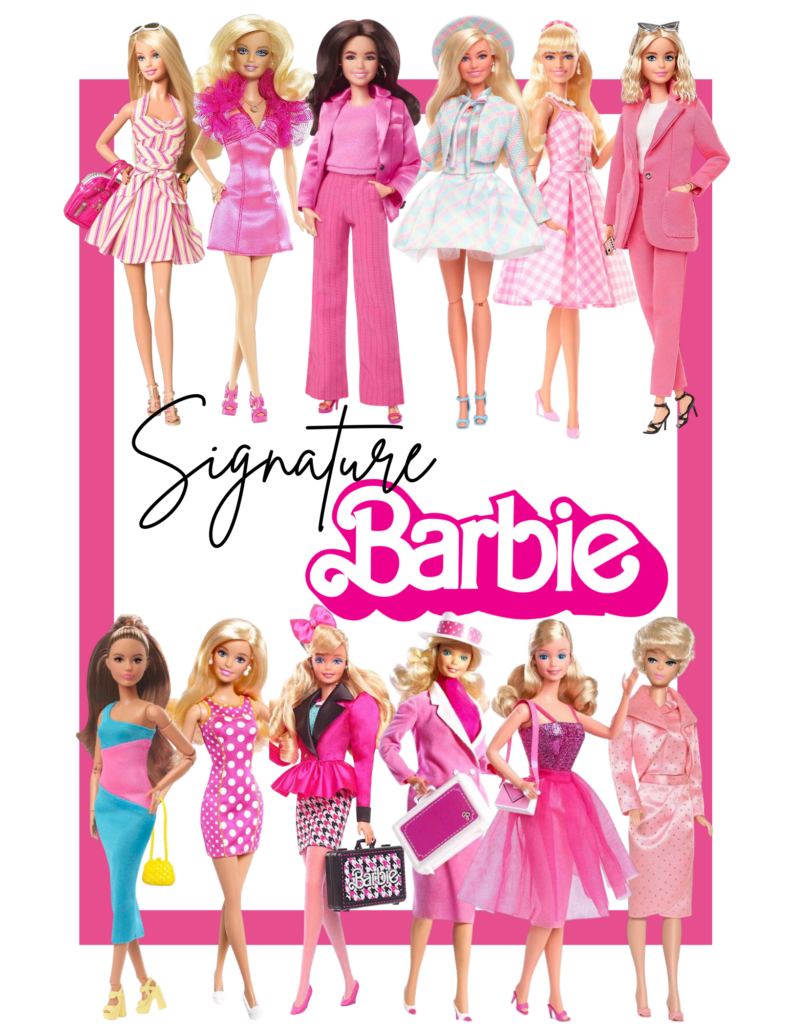 Barbie has been in the spotlight since she hit shelves in 1959, but the Barbiecore fashion trend really took off in 2022 with Valentino's runway release of its Pink PP collection.
The "Signature Barbie" look encapsulates the classic essence of Barbie with iconic power blazers, pencil skirts, flirty dresses, block, kitten, or stiletto heels, and a plethora of accessories all in — you guessed it — pink! (Tip: the hotter the hue, the better!)
SHOP SIGNATURE BARBIECORE TOPS

SHOP SIGNATURE BARBIECORE BOTTOMS

SHOP SIGNATURE BARBIECORE BLAZERS

SHOP SIGNATURE BARBIECORE DRESSES + JUMPSUITS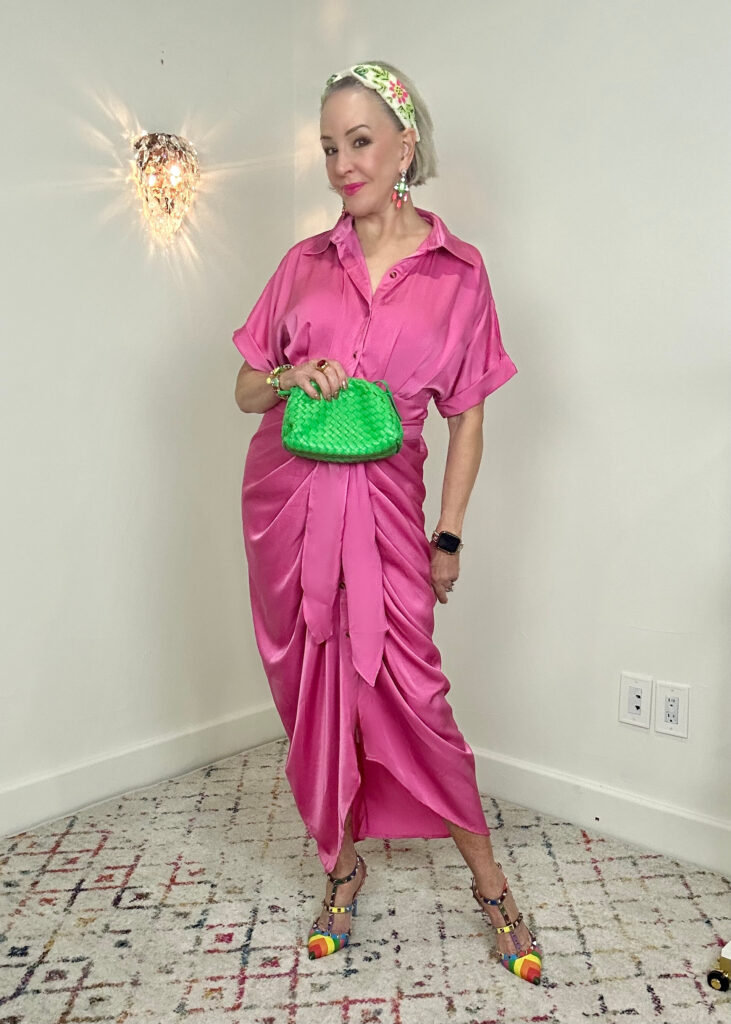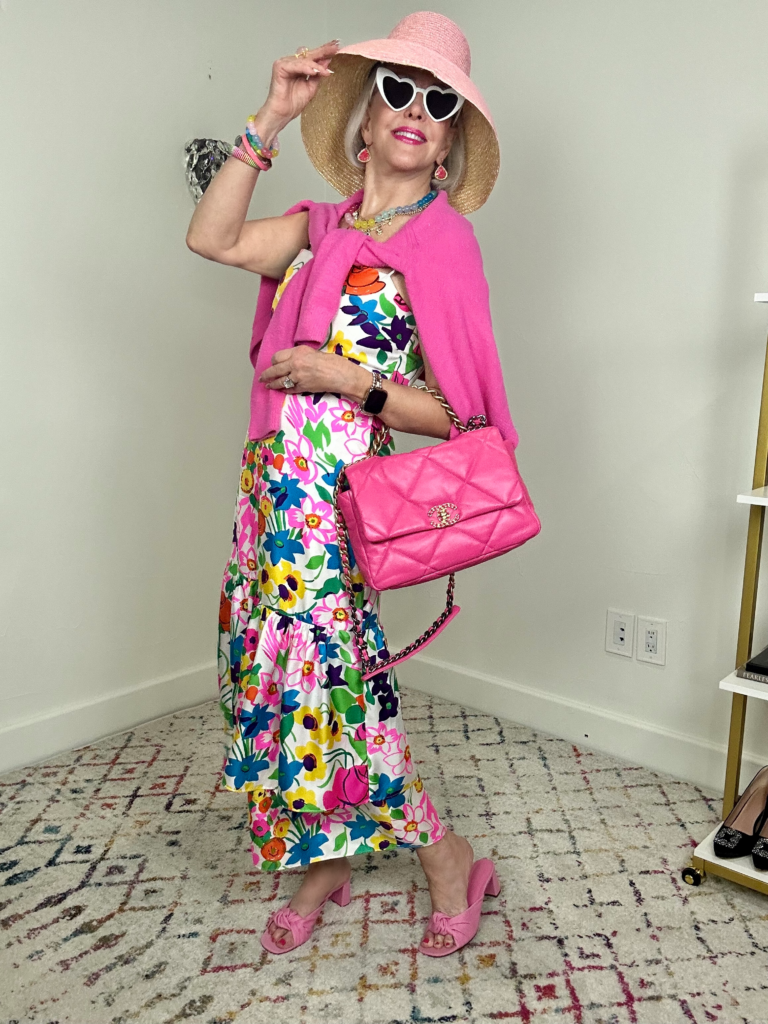 SHOP SIGNATURE BARBIECORE HEELS + SANDALS

2. Workout Barbie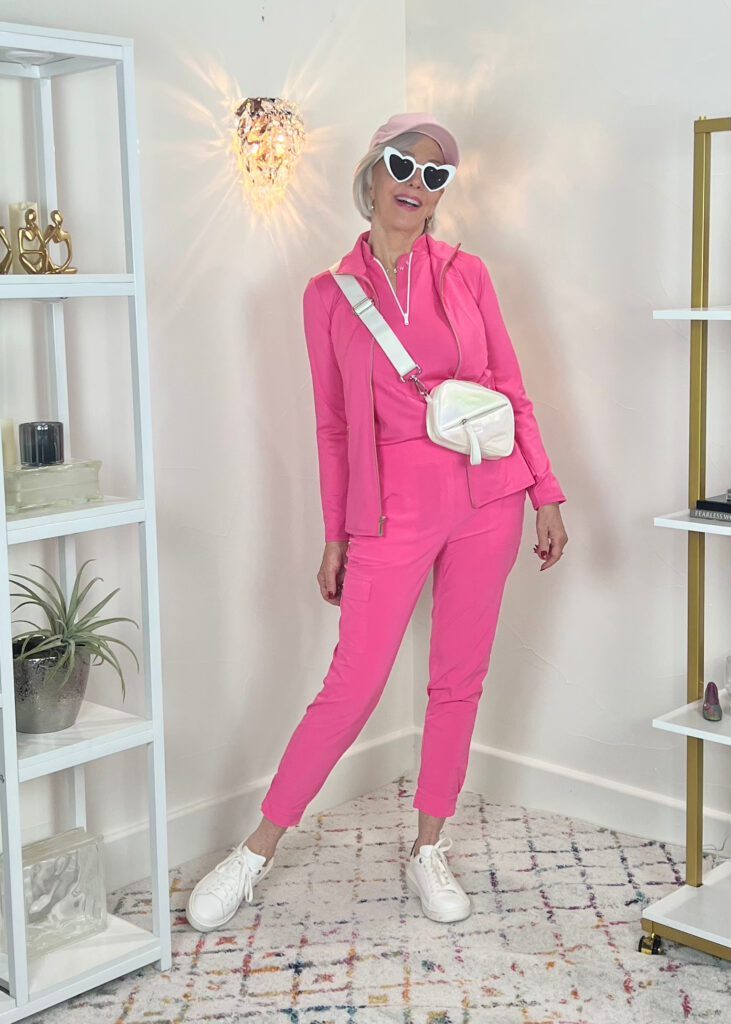 With her perfect physique, there's no doubt Barbie works out!! You can comfortably rock your Barbiecore fashion through athleisure and loungewear. I love this bright pink tights and seamless top set by SKIMS paired with these classic white sneakers with a subtle hot pink heel for an easy gym look. Throw on this shiny faux leather baseball cap, this flirty Luxletic sports dress, and these metallic pink and purple sneakers and you're ready to hit the golf course or tennis courts in true Barbie style!
SHOP ATHLEISURE BARBIECORE

SHOP SNEAKERS + ACCESSORIES

SHOP LOUNGEWEAR + INTIMATES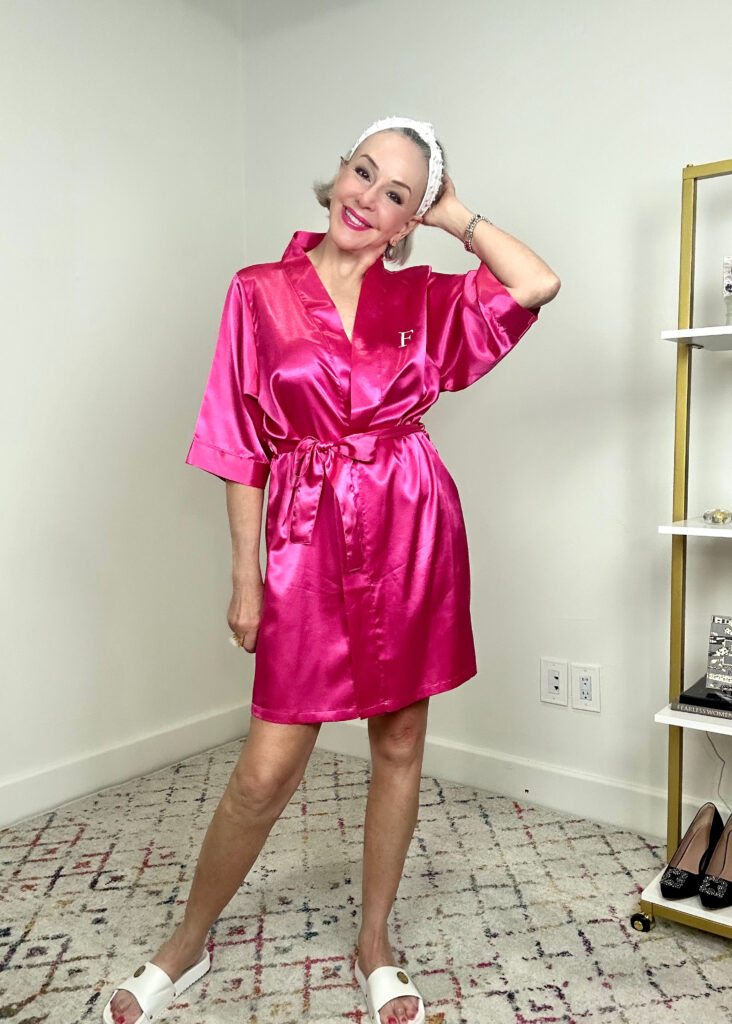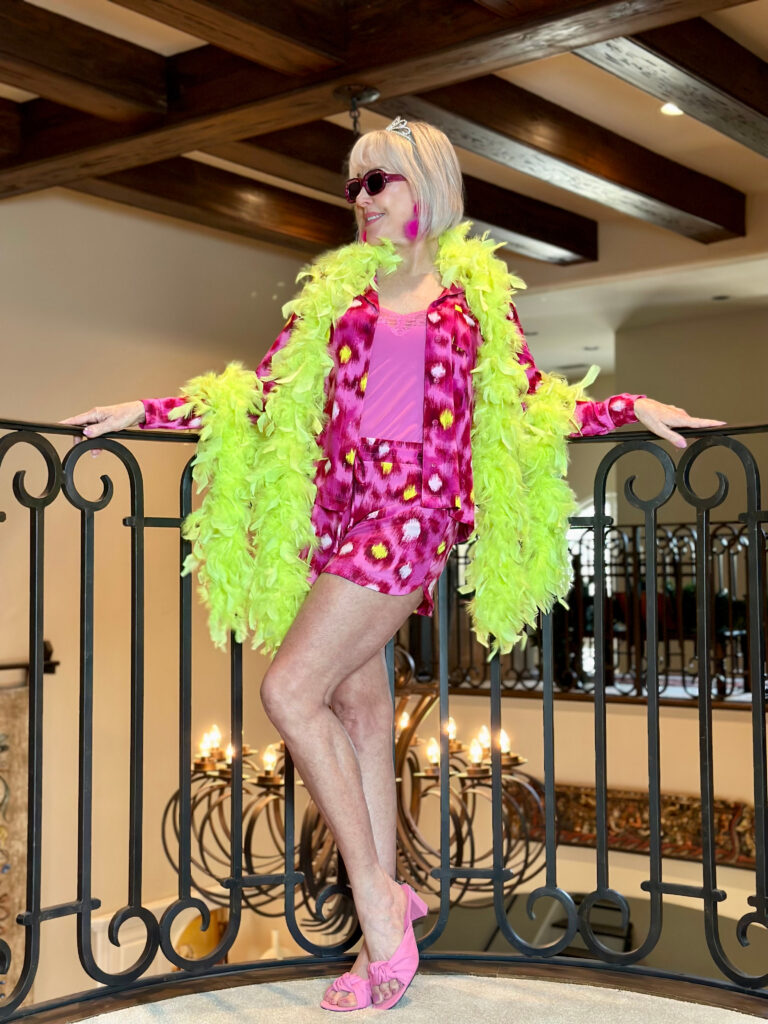 3. Cowgirl Barbie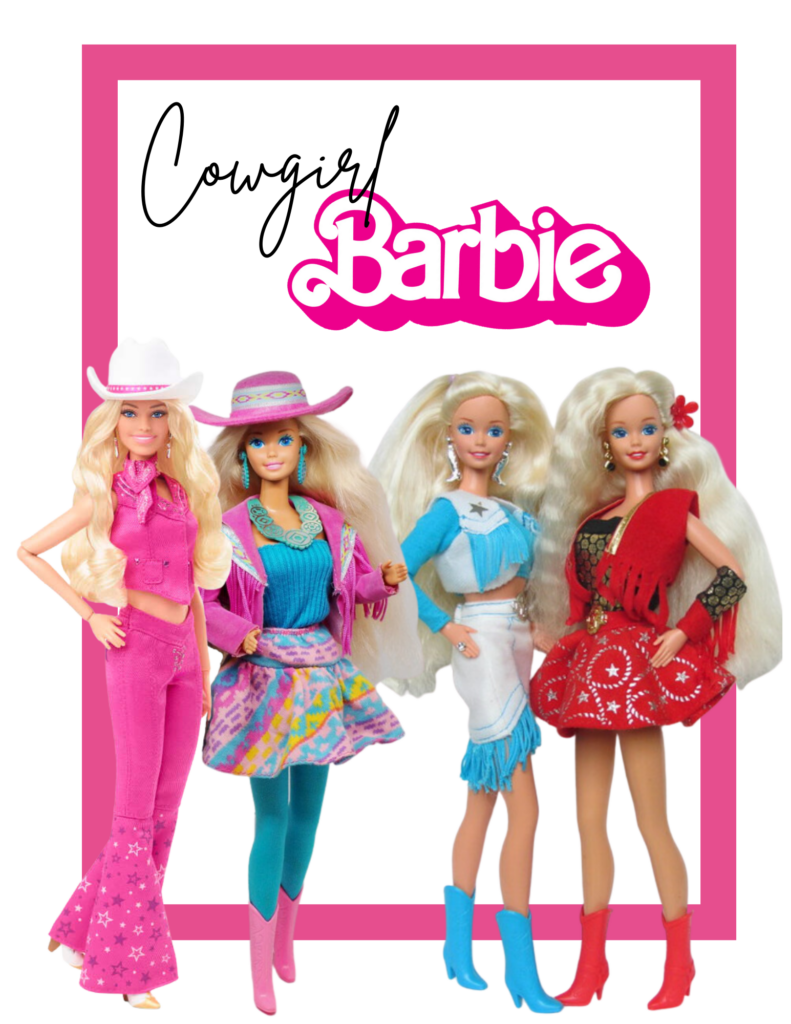 Cowgirl Barbiecore epitomizes all things Western fashion. Think pink traditional western tops or vests, bright or embellished cowboy boots, sassy cowboy hats, flared pants, and lots of fringe!! Whether it's a themed party, a trip to Nashville, Tennessee or just another Tuesday, you can always strut Cowgirl Barbie vibes in style.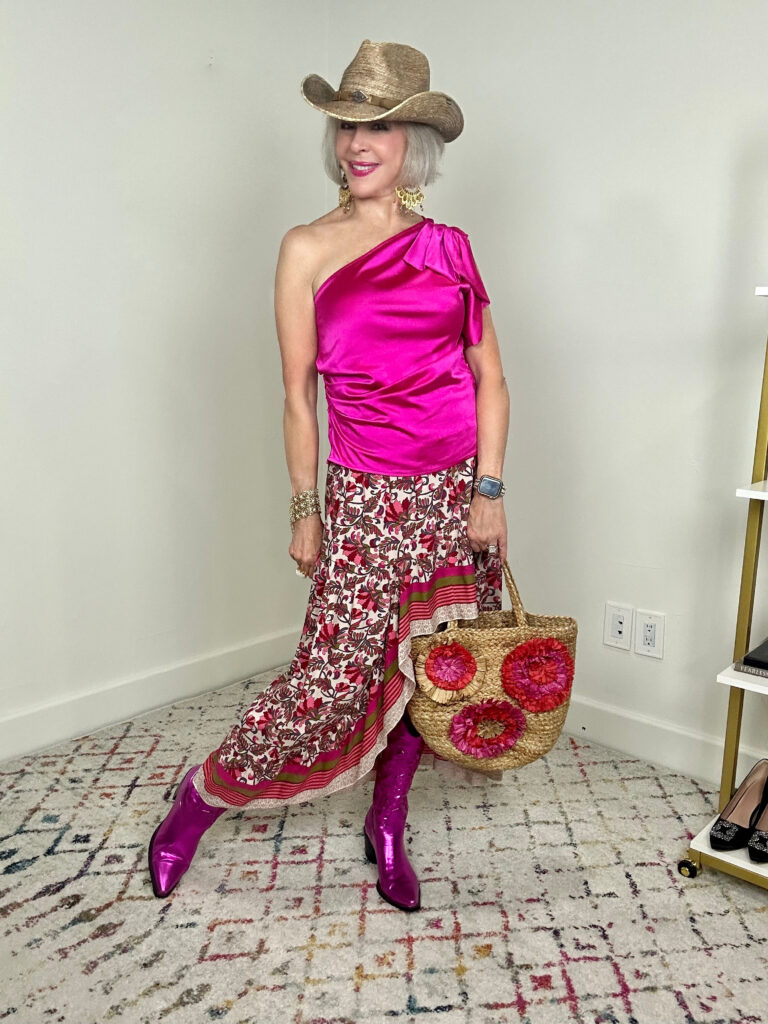 SHOP COWGIRL BARBIECORE TOPS

SHOP COWGIRL BARBIECORE BOTTOMS

SHOP COWGIRL BARBIECORE BOOTS

SHOP COWGIRL BARBIECORE JACKETS

SHOP COWGIRL BARBIECORE ACCESSORIES

4. Malibu Barbie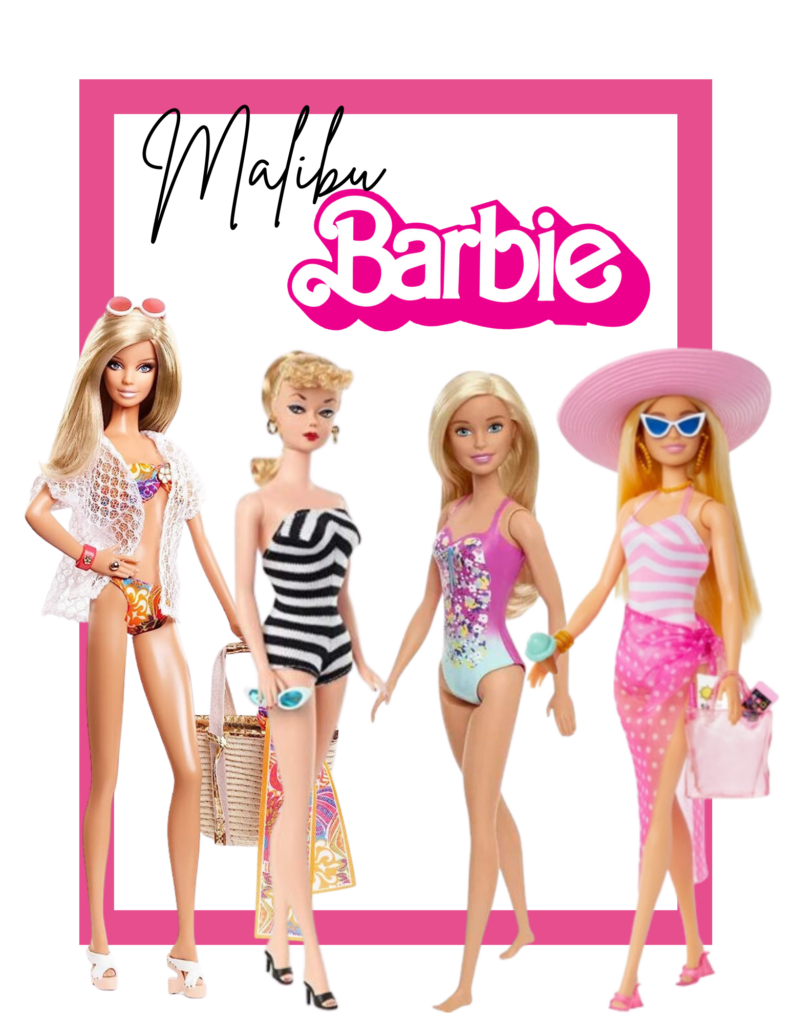 Malibu Barbie is ready to hit the beach at a moments notice! She's always dressed fabulously from her iconic black and white striped swimsuit from 1959 to floral one-pieces that look almost identical to this Floral Ombre Tank swimsuit by Johnny Was. Malibu Barbiecore includes fun patterned swimsuits and classy floppy beach hats.
Side Note: Did you know Trina Turk collaborated with Mattel to create her own fashion Malibu Barbie doll?! How cool is that?!
SHOP MALIBU BARBIECORE SWIM

SHOP MALIBU BARBIECORE ACCESSORIES

SHOP BARBIECORE JEWELRY

SHOP BARBIE x Kendra Scott Collection

All in all, "Barbiecore" is an homage to the stylish doll whose brand identity is undeniably feminine and very, very pink. We are OBSSESSED with this trend and hope you do, too!
Shop the Boutique

SHESHE'S TIDBITS:
Hi Lovelies,
Aren't you loving this Barbiecore trend with all things PINK?! I'm headed to see the Barbie movie with my bunco girlfriends on Tuesday and we are SO EXCITED!! Have you seen it yet? Leave me a comment on your thoughts!! I heard that has woke vibes, but I am going for the nostalgia and everything Barbiecore! Does Barbie even know what woke means? After all, she is about 72 years old. Ha Ha!!
XO – SheShe
Be sure to check out our most recent blog posts on Best of Beauty NSale Buys, Simplifying the Nordstrom Sale + NSale 2023 Picks, What You Need to Know About the Nordstrom Anniversary Sale 2023, Festive 4th of July Fashion 2023 | Summer Fashion Fun, 4 Ways to Dial Up Denim, Luxury Luggage for Every Budget, Must-Have Summer Handbags, 5 Ways to Style Your One-Piece Swimsuit As A Bodysuit, What is in My Beach Bag | Beach Necessities 2023, Trendy Shoe Must Haves – Summer Sandals + Flats + Sneakers, Versatile Memorial Day Sundresses You Can Strut All Summer Long, Bold & Patriotic Outfits to Honor the Brave, The Ultimate Over 40 Swimwear Guide, and How to Fabulously Wear Shorts Over 40.
*CHECK OUT MY LTK INSTAGRAM SHOP TO SHOP ALL OF MY INSTAGRAM LOOKS
*YOU CAN ALSO DOWNLOAD THE LIKETOKNOW.IT APP AND FOLLOW ME ON IT BY CLICKING HERE. Go here for our LiketoKnow.It tutorial.
* STAY IN THE KNOW: SUBSCRIBE HERE to receive exclusive sale alerts, helpful style tips, and fabulous giveaways, AND GET ACCESS TO MY VIP ONLY FOR SUBSCRIBERS!
* Follow us on PINTEREST BY CLICKING HERE.