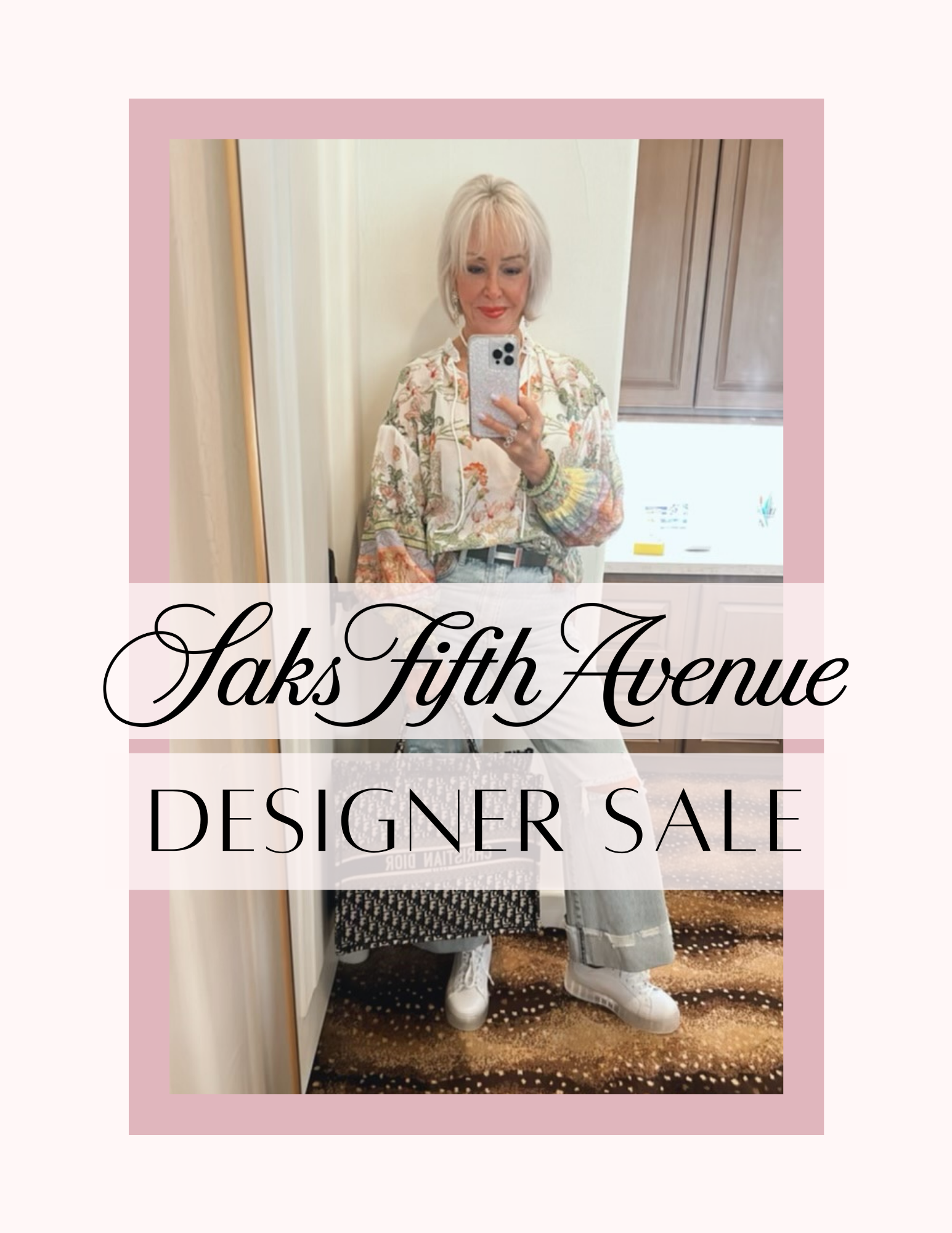 Ladies, the Saks Designer Sale is on!! From designer jeans to handbags and everything in between, we are sharing our favorite picks across all categories so you can score BIG and save BIG on fabulous designer clothing and luxury apparel.
SHOP THE PHOTO

Table of Contents
SAKS DESIGNER SALE FAVORITES
TOPS
The Saks Designer Sale has 28 pages of tops to choose from so to save you the headache of sorting through the hundreds of options, we've curated a few of our favorites below.
If you're looking for a designer classic button front shirt like the ones we featured in our recent post The Classic Button Front Shirt | 5 Ways to Style, we love this L'AGENCE Three-Quarter Sleeve Silk Blouse that's available in black, ivory, orchid, orange, brown, navy, neon blue, and champagne.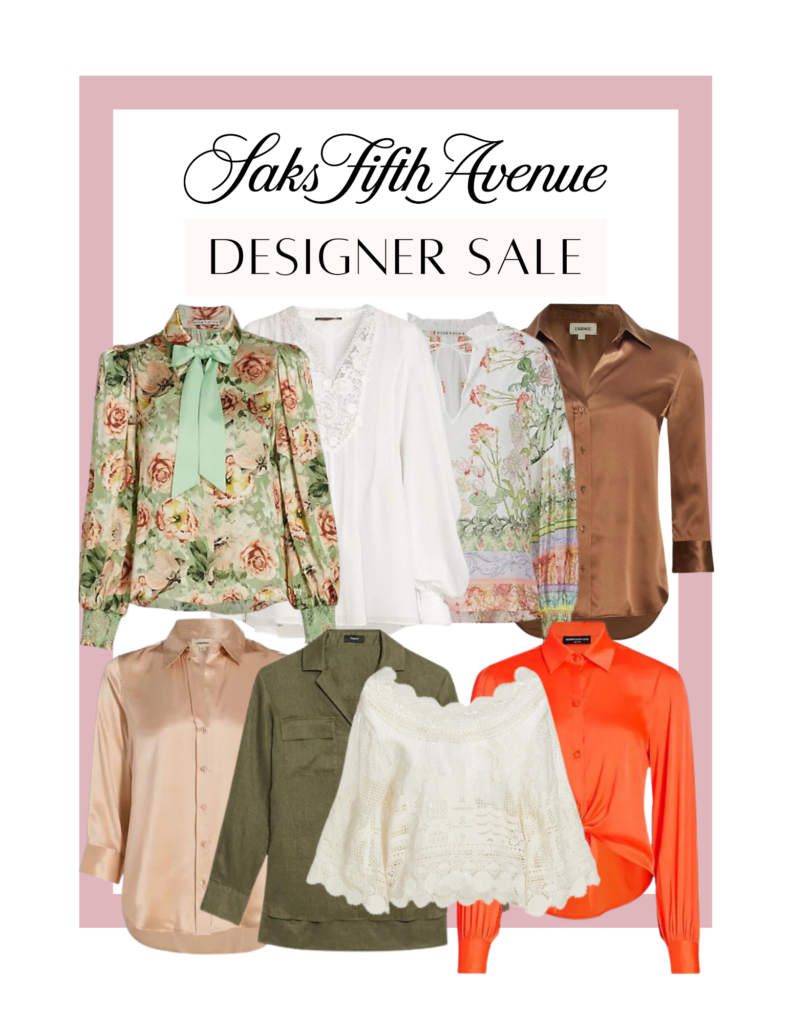 SHOP DESIGNER TOPS

One of my favorite tops from Alice + Olivia is included in the sale and it's $150 OFF (on sale for $225, originally $375)!!!
SHOP ALL ALICE + OLIVIA TOPS

BOTTOMS
JEANS
Just like the Nordstrom Sale, denim is where I like to spend my money during the Saks Designer Sale. Luxury denim is worth every penny and you can get the most elite designer brands at their best price during this sale!!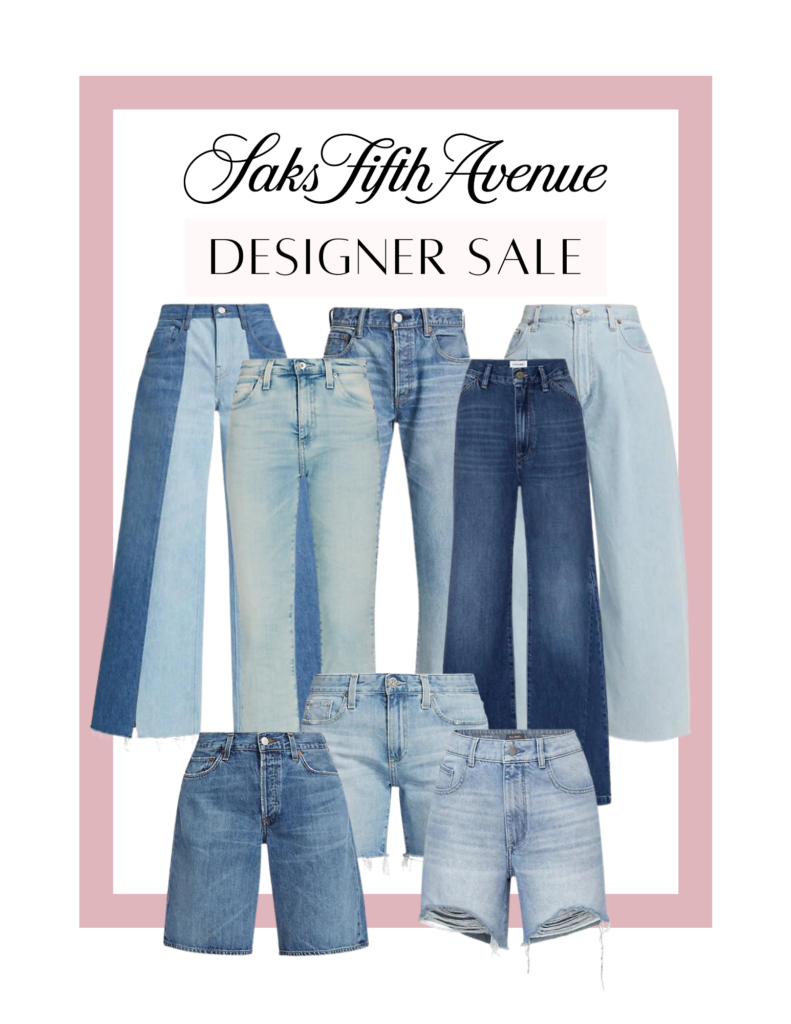 SHOP DESIGNER DENIM

CARGO PANTS + SHORTS
If you've been following our blog, then you probably read our post on The Cargo Trend | How to Style Our Top 4 Types. You can jump on the cargo trend bandwagon during the Saks Designer sale with these AGOLDE white cargo jeans, these Hudson Jeans wide-leg cargo pants, or go for some long cut-off cargo shorts which are perfect for summer or even the cooler temps as we transition into fall.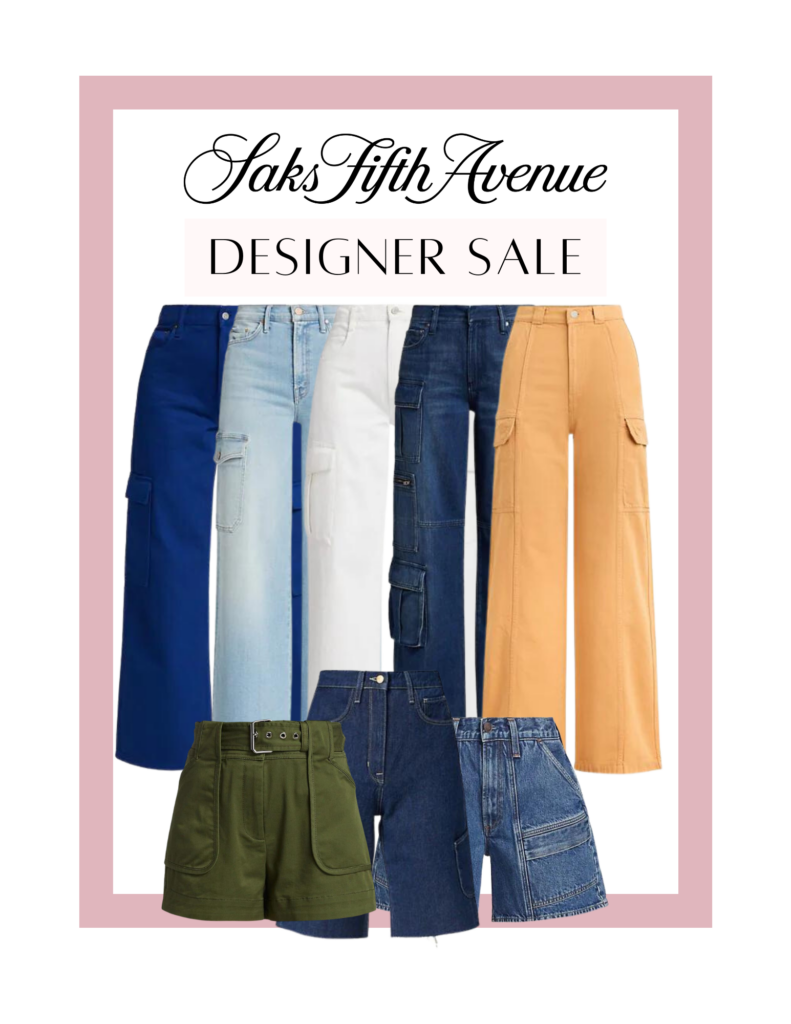 SHOP DESIGNER CARGO PANTS + SHORTS

BLAZERS
To me, you can never go wrong with purchasing a designer blazer. The quality is worth it and with proper care and maintenance, they can last a lifetime. This L'AGENCE cotton-blend double-breasted blazer in rose tan ($357 orginally $595) is a timeless choice or for a more trendy buy, I love this Alice + Olivia floral blazer.
Looking for a chic, ultra-posh outfit for this Christmas?? How perfect would this TWP deep red velvet blazer (over $531 off) with these black silk trousers or these black slim trousers and these SIMKHAI crystal harness pumps be?!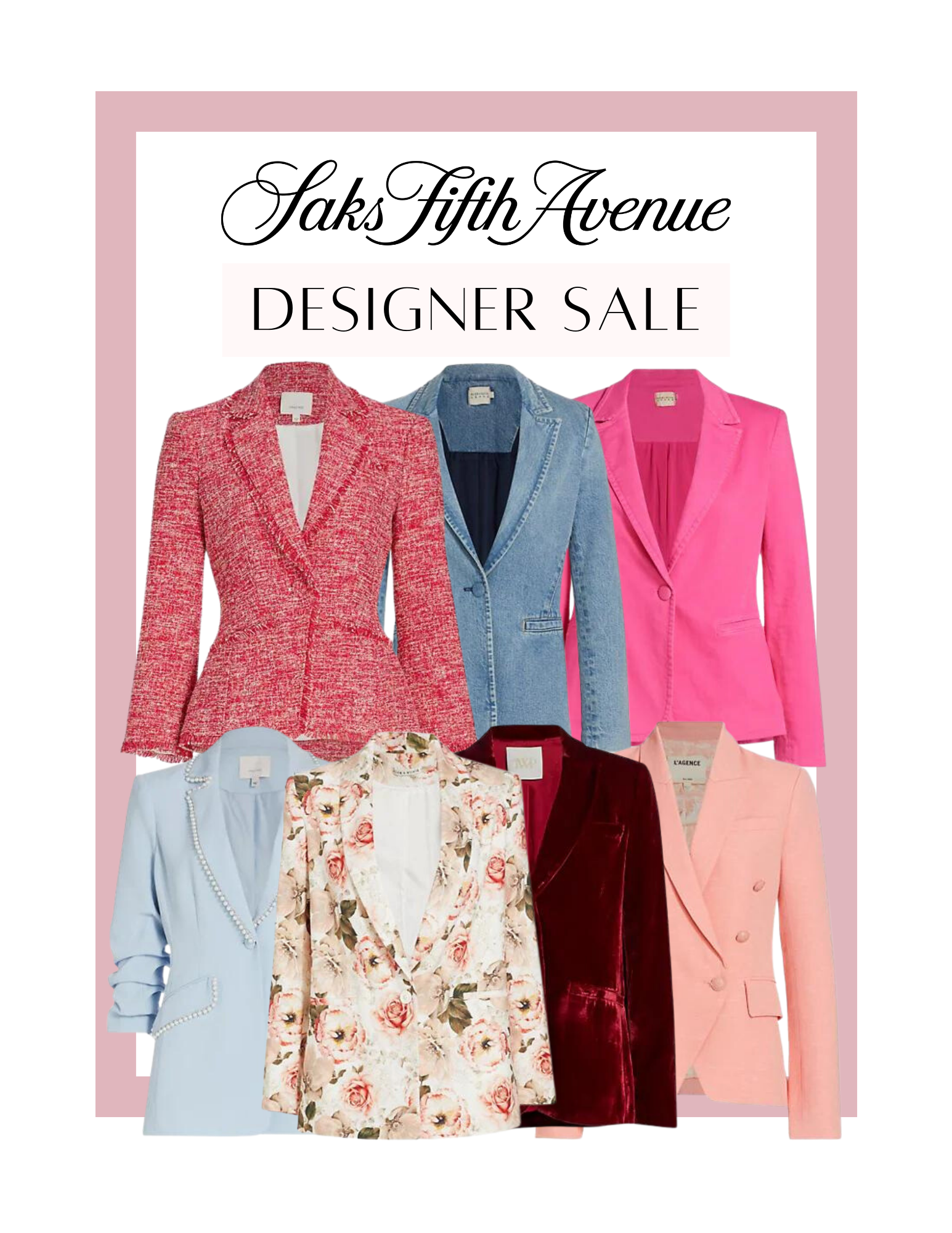 SHOP DESIGNER BLAZERS

DRESSES + JUMPSUITS
The Saks Designer Sale has an incredible selection of dresses and jumpsuits, but I have my eye on this gold Arista Lamé Halterneck Gown by Alice + Olivia for a formal event or even NYE and this Johnny Was floral midi-dress for more casual looks.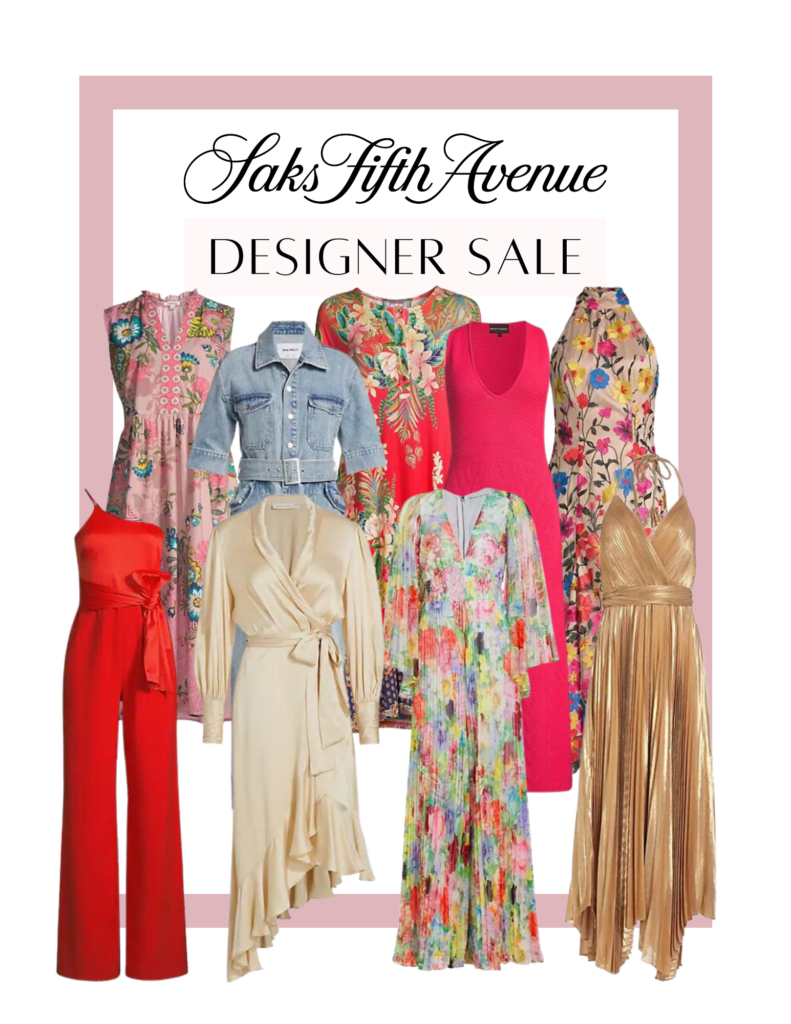 SHOP DESIGNER DRESSES + JUMPSUITS

SHOES

HANDBAGS

JEWELRY
If you read my blog on My Top 5 Favorite Jewelry Brands, then you know I absolutely ADORE Dean Davidson and he has a huge selection of items in the sale!!!

ACCESSORIES
I'm all about getting some luxury winter accessories during this year's Saks Designer Sale like this cozy faux mink pom pom hat and this cashmere goat cross over scarf!

Happy shopping, lovelies!!

SHESHE'S TIDBITS:
Hi darlings,
Are yall loving all of these mid-year sales like me? Just a reminder that the NSale ends TODAY Sunday, August 6th and prices will skyrocket back up so don't miss out on our favorites we listed in the Nordstrom Sale Last Chance Picks, Best of Beauty NSale Buys and Simplifying the Nordstrom Sale + NSale 2023 Picks!!
Be sure to check out our most recent blog posts on The Classic Button Front Shirt, TRENDING Barbiecore | 4 Ways to Wear the Best of Barbie Fashion, Best of Beauty NSale Buys, Simplifying the Nordstrom Sale + NSale 2023 Picks, What You Need to Know About the Nordstrom Anniversary Sale 2023, Festive 4th of July Fashion 2023 | Summer Fashion Fun, 4 Ways to Dial Up Denim, Luxury Luggage for Every Budget,
Must-Have Summer Handbags, 5 Ways to Style Your One-Piece Swimsuit As A Bodysuit, What is in My Beach Bag | Beach Necessities 2023, Trendy Shoe Must Haves – Summer Sandals + Flats + Sneakers, and How to Fabulously Wear Shorts Over 40.
*CHECK OUT MY LTK INSTAGRAM SHOP TO SHOP ALL OF MY INSTAGRAM LOOKS
*YOU CAN ALSO DOWNLOAD THE LIKETOKNOW.IT APP AND FOLLOW ME ON IT BY CLICKING HERE. Go here for our LiketoKnow.It tutorial.
* STAY IN THE KNOW: SUBSCRIBE HERE to receive exclusive sale alerts, helpful style tips, and fabulous giveaways, AND GET ACCESS TO MY VIP ONLY FOR SUBSCRIBERS!
* Follow us on PINTEREST BY CLICKING HERE.